Carolina Caliber Company Receives Prestigious Award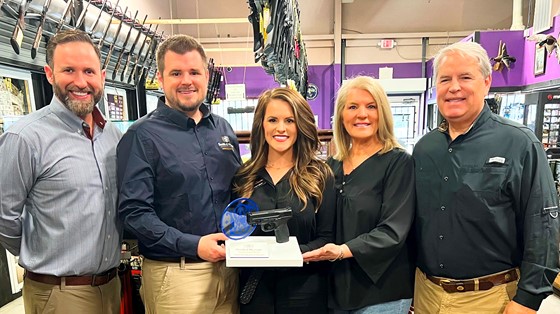 Carolina Caliber Company is pleased to announce that after years of hard work and dedication, they are honored to be named a Smith & Wesson "Ambassador Dealer."
Out of 79,000 federally licensed firearm dealers, Smith & Wesson has chosen to recognize Carolina Caliber as a company that reflects its values and upholds the integrity associated with the Smith & Wesson brand. Viewed throughout the industry as the most distinguished status a retailer can achieve, it is one of the company's proudest moments to date.
Carolina Caliber Company is a third-generation business, family owned and operated. In 1960, late president, D. Glenn Bowen, Jr., found his passion for firearms, establishing several successful firearm businesses throughout Eastern NC. Bowen's family proudly inherited his passion for firearms and is thankful to be able to carry on much of Bowen's legendary knowledge and skills. Bowen's daughter, Patty B. Richardson, her husband Roy, son Josh Richardson and daughter Lindsey Richardson Grady, along with Carolina Caliber Company's friendly and knowledgeable staff, are honored to continue this "Time-Honored Tradition."
Dubbed one of the Nation's top firearms retail businesses by leading manufacturers, Carolina Caliber Company offers expertise in appraising, buying, selling, trading and repairing firearms. Whether for sporting or protection, the business strives to provide the best selection around at both their retail location and on their website, offering reloading supplies, scopes, sights, holsters, ammunition, tactical gear, all major brands of firearms and an extensive range of accessories, including, but not limited to, firearm cleaning equipment, knives and hearing protection.
Carolina Caliber Company would like to express their sincere gratitude to all who have supported the business throughout the years
Carolina Caliber Company is located at 571 W. Fire Tower Rd in Winterville and is open Monday through Friday from 10:00 am to 5:00 pm and on Saturday from 10:00 am to 3:00 pm. Their website location can be viewed at carolinacalibercompany.com. For more information, please call (252) 321-2658 or email info@carolinacalibercompany.com.